Choosing the right accounting services for startups is a critical but often underrated decision that founders should make when building a business.
Early-stage companies are notorious for moving quickly and bending the rules while trying to keep expenses low. While this mindset may be advantageous for growth, ignoring the accounting side of your business can lead to serious financial mistakes.
Being a startup doesn't mean you can take shortcuts with accounting, and most founders are unqualified to manage their company's accounting independently.
Accounting services are more than simply another expense. A savvy accounting firm that fits your business can provide tremendous value, but you must evaluate accounting services regularly. How should you assess accounting services for your startup? What are some questions to ask when considering a particular accountant?
Why Evaluating Accounting Services for Startups is Important
---
In your business's early days, you need quality and reliable services at an affordable price.
When choosing an accountant, look at their background. You can learn much about an accounting service for startups by getting a good feel for their experience level.
Ask about how long they've been working with small businesses like yours. Experts fitting your business will have worked with startups and have extensive experience advising similar companies.
For example, someone claiming to be a bookkeeping expert who has never worked with startups is unlikely to have the experience necessary to meet your needs. They might misreport your expenses or revenue, incorrectly track your cash flow, or fail to help you plan for future risks.
Remember to shop around and compare different types of firms to choose the best fit for your business. Examine the cost of accounting services and the value of the reporting and advice you will get. This step will help you determine if they are worth their fees.
If you're already an established company looking for new accountants, it's essential to understand the policies and procedures of whatever company you are working with.
Customer feedback can be another helpful indication before making a final decision. The knowledge that past clients were satisfied or unsatisfied with their experience with the firm can help reinforce (or second guess) your decision.
Finally, knowing the value of your business and its performance will make it easier for you to choose an accounting firm to help you grow and scale up your business.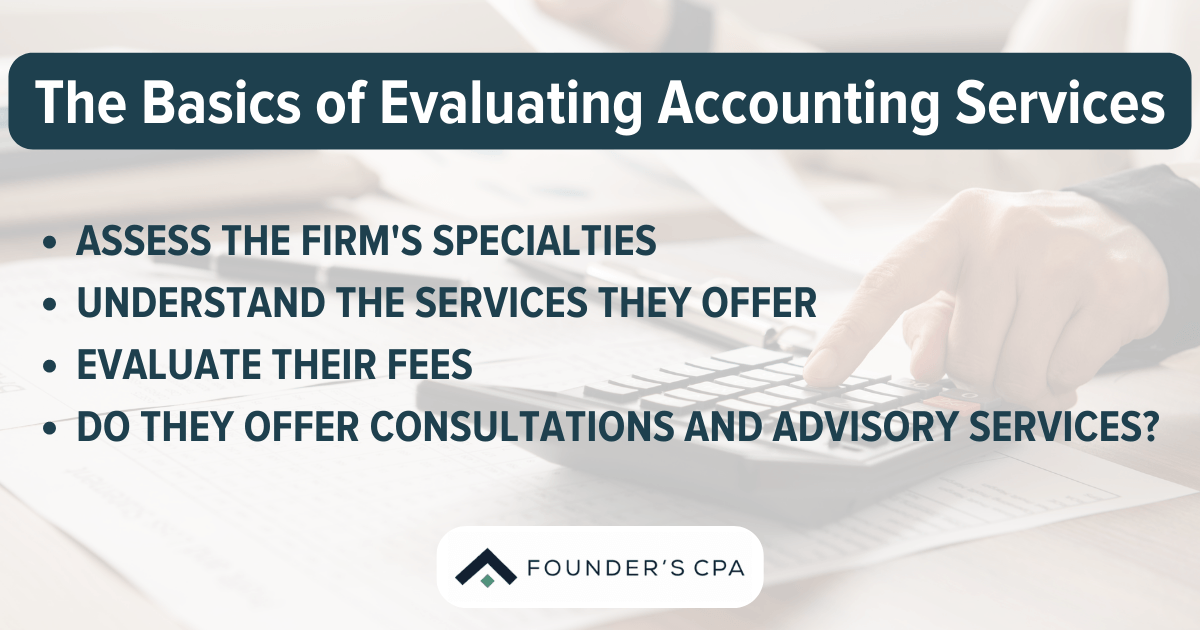 The Basics of Evaluating Accounting Services
---
Assess the Firm's Specialties (Make Sure they Focus on Startups)
Before outsourcing your accounting services, assess if the firm you are considering hiring has experience dealing with startups.
A good accountant will be familiar with the unique needs of startups and how to manage them effectively. This is one of the most critical factors in determining whether you will get value out of their services or not.
Understand the Services They Offer – Do They Match the Services You Need?
Another step in evaluating accounting services is to understand the services they offer. Checking the company's website, talking with other entrepreneurs who have used the service, and asking your network of family and friends is the best way to do this.
If you're still figuring out what type of accounting service you need, get multiple quotes from different companies to get a clear picture of how much each company costs, what kind of experience they have, and how your startup could benefit from their service.
Evaluate Their Fees – Do They Fit Within Your Budget?
Before signing a long-term contract, find out what their monthly and annual fees will be and what services are included. If the prices are too high for the current stage of your business, you may need to scale back your requirements or find another accountant.
Do They Offer Consultations and Advisory Services?
Some founders only want a bookkeeper and someone to help prepare taxes. While this can be a significant first step, it can also mean leaving opportunities on the table. An experienced accountant has likely seen many things that would be helpful to your business.
In other words, if you also want business guidance rather than just financial advice, ensure that your accountant provides this service alongside their accounting services.
Questions to Ask as You Meet With Providers
---
What experience do you have working with startups?

Do you have any references from past clients?

What accounting services do you offer?

What are the fees for your services?

How will you handle my business's financial reporting requirements?

How often will you provide us with financial statements?

How will you help us stay up-to-date with tax regulations and filing requirements?

How will you help us develop and implement a budget?

Will you help us evaluate our current accounting processes and suggest improvements?

What sort of internal controls do you recommend for our business?

What kind of technology do you use?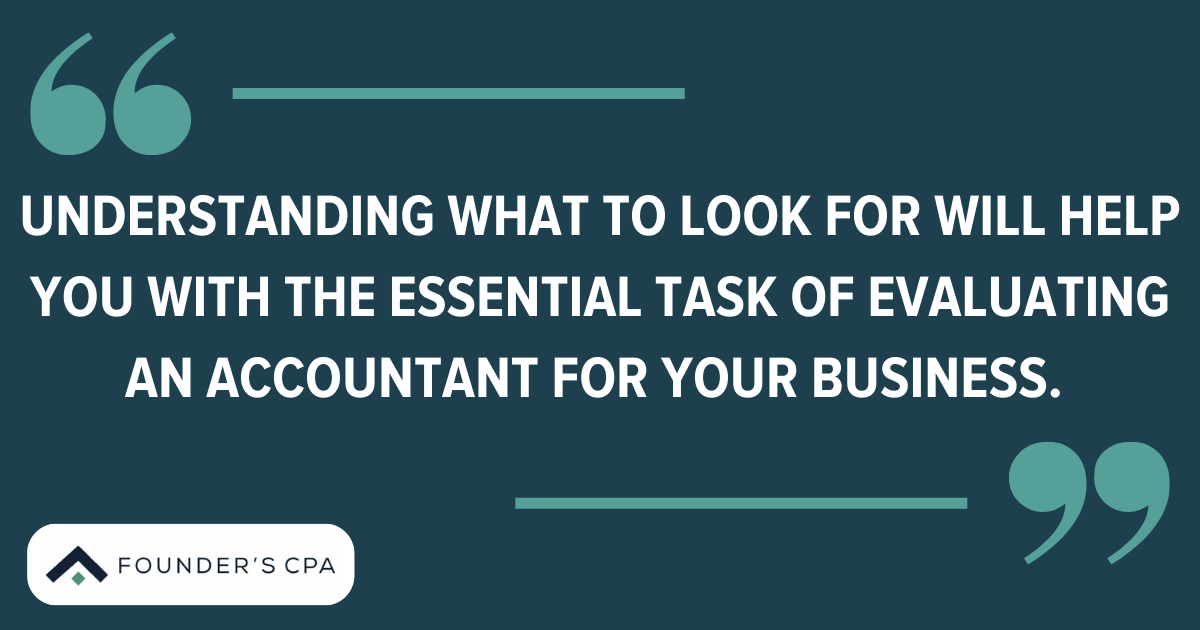 Looking for an Experienced Startup Accountant?
---
Choosing accounting services for startups can be challenging for first-time founders. Understanding what to look for will help you with the essential task of evaluating an accountant for your business.
Remember that an experienced startup accountant can often provide better service than one just starting, and as your business grows, you may need a new provider.
When you find a good fit for your business, look for references and follow up with them. At Founder's CPA, our experienced team of experts provides accounting and advisory services for startups. Contact us today to see how we can help you grow your business.

Curt Mastio started Founder's CPA in 2017 and currently serves as the Managing Partner of the firm. After obtaining both his Bachelor's and Master's degrees in accounting from the University of Illinois in Urbana-Champaign Curt started his career in Big Four public accounting. Shortly thereafter Curt served as the Chief Financial Officer of Storage Squad began his stint as an Adjunct Instructor at Northwestern University's Farley Center for Entrepreneurship and has been teaching Accounting & Finance to undergraduate students for 6+ years. In his current role Curt oversees strategy, operations, and business development at Founder's CPA. Further, Curt has experience working directly with 200+ startups and small businesses providing accounting, tax, and outsourced CFO services. His industry expertise lies in the SaaS, Blockchain, Marketplace, and Fintech industries. He has served as a key advisor working directly with startups that range from pre-revenue to companies generating over $30 million dollars a year in revenue. Lastly, he serves a key role working directly with the firm's clients that have collectively raised over $200 million in venture capital funding to date. Curt is also an active advisor, mentor, and investor in the startup ecosystem. He has facilitated numerous workshops, webinars, and presentations to incubators and other startup-centric organizations. He is also an active mentor for Techstars in both Chicago and Iowa. Outside of his daily professional duties Curt is actively involved with Beat the Streets Chicago and was a founding member of its Young Professionals Board. His efforts in both leadership and community involvement were recognized when he was awarded the Illinois CPA Society's Outstanding Young Professional Leadership Award in 2020. He was also a panelist at their annual conference in 2022 where he spoke about his experiences starting and operating a public accounting firm. He maintains an active Certified Public Accountant designation that he obtained in 2014. Outside of work, Curt can be found spending time with his friends & family including his dog Rufus. His hobbies include golf, boating, cooking, reading, and attending sporting events & concerts.